When Norwich played Leicester City in March 1963, I dearly wanted to go. It was the Sixth Round of the FA Cup, I was a teenager, and a big crowd was anticipated. My mother, though, really objected to me going to the football - I had polio as a child and was really unstable. She worried - as all mothers would - that I would be pushed over in the crowd and trampled to death.
It was my father who said I needed to be allowed to go. He said I should, literally, "learn to stand on my own two feet".
Norwich fans know what happened next. The attendance of 43,984 at Carrow Road is the highest ever recorded in the club's history and is unlikely ever to be bettered. The ground then was mostly terraced and my overriding memory of the day was being unable even to raise a bottle of Coke to my lips - we were squashed in like sardines in a can. Throughout the match I recall being squeezed up against the crash barriers, especially when the crowd craned their necks and surged forward to see what was happening on the pitch.
I always found a standing place near to a crash barrier though so I could see my favourite player, the midfielder Tommy Bryceland - who recently died. He was a doppelganger for Wes Hoolahan! I remember him striking the ball, beating the Leicester and England keeper Gordon Banks all ends up. But his shot hit the left hand upright, deflected onto the crossbar, hit the right hand goalpost and came out! At least, that's how it looked from the cramped terrace. I later found out that Banks actually got a hand to it.
Strangely, the actual game was a bit disappointing with Norwich City, then in Division 2, losing 2-0 to First Division Leicester City. Terry Allcock for the Canaries missed a penalty - and Leicester went on to lose in the Wembley final to Manchester United. But these were happy days indeed.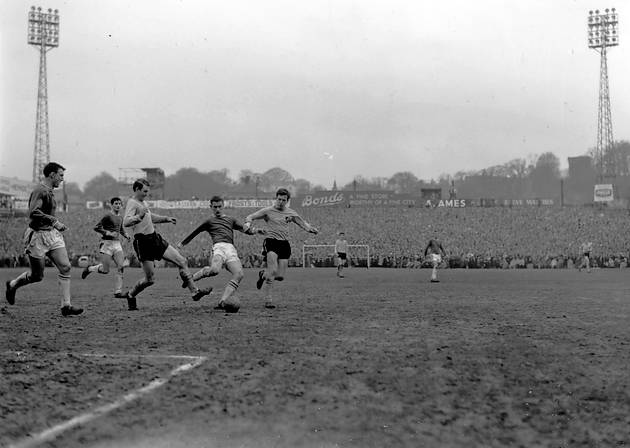 Language
English