Cambridge Rules 1848 is delighted to announce that it is now working with charity Street Child United, founded in Cambridge, with the aim of making the public art commission from Cambridge City Council a truly global artwork.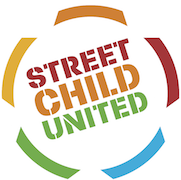 Street Child United uses the power of sport to change the way the world sees and treats street children. Its flagship initiative is the Street Child World Cup – a World Cup for street children taking place ahead of each FIFA World Cup – with the next one due to kick off in Moscow in 2018. 
Meanwhile, the idea of the Cambridge Rules 1848 project is to celebrate how a simple set of rules for a game of football played on Parker's Piece in Cambridge has grown into a global phenomenon, embraced by diverse cultures around the world. In Cambridge, one large stone engraved with the laws of the game in different languages will be cut into nine, with four pieces staying on Parker's Piece, the others travelling to five countries across the planet in a cultural exchange.
To celebrate and support the vital work of Street Child United, Cambridge Rules 1848 will now place these stones in places where Street Child United has links, including Brazil, India, China, Russia and Kenya.
"Living in Cambridge for the past 30 years and knowing the history of Parker's Piece, it's fantastic that this sculpture will connect Cambridge and places such as a favela in Rio – where we have our Safe Space football pitch – for ever," said John Wroe, founder and CEO of Street Child United.
"That fills me with a huge amount of pride, and it's great that an art project originally commissioned for Parker's Piece will tell such an important story of football's power for good across the world."
One of the Cambridge Rules 1848 artists, Alan Ward, said he was thrilled that the project will now be partnered with such an important and relevant charity.
"We've been so impressed with Street Child United's work, and given that it is a charity founded in Cambridge which directly helps street-connected children – often via football – we were really keen to connect with them.
"When we looked at the kinds of places across the world we wanted to take the stone, there was a complete synergy with where Street Child United works. We now have this lovely possibility of people in a Rio favela sitting on a Cambridge Rules 1848 stone, watching football. It'll be a powerful physical reminder of how the game has spread to mean so much to so many people."
The specific locations of each stone will be announced soon and you can find out more about the Cambridge Rules 1848/Street Child United partnership by listening to the latest Cambridge Rules 1848 podcast.
You can also learn more about the Cambridge Rules 1848 project at The Big Weekend in Cambridge next month – members of the team will be giving out flyers and taking photographs of people in football shirts at the site of the sculpture on Parker's Piece, opposite the Fire Station, on July 8 and 9.