On a Saturday afternoon in mid-February what else would you expect me to do other than support my local football team? Local to me in February 2014 is Polokwane City, recently promoted to South Africa's Premiership.
I bumped into the Peter Mokaba Stadium on an early morning walk, towering over parkland not far from my two-week residence, Rustic Rest Guesthouse. In 2010 it hosted Algeria 0 Slovenia 1 in England's Group C and three other group matches.
According to Wikipedia Peter Mokaba was a hero of the anti-apartheid struggle and a deputy minister in Nelson Mandela's government. His entry additionally reveals much about South Africa's awkward history of HIV denialism:
'Mokaba was HIV positive, but refused treatment because he viewed pharmaceutical drugs as poisonous; he died in 2002 of AIDS-related pneumonia. According to Mokaba, anti-Aids (sic) drugs had no benefits "beyond profits for the pharmaceutical industry"; the fight against these companies, he said, should be waged with the same intensity as the struggle against apartheid. Privately, he assured supporters that the HIV virus and Aids (sic) were part of an "international Western plot" to decimate blacks and "regain colonial control" in Africa.'
Returning to the beautiful game, Saturday's match against the superstars of Orlando Pirates was crackingly entertaining. Tickets had to be purchased in advance at Checkers - think Asda - a palaver since the store was off-line on my first visit. For a top flight match, R40 (£2.18) is an undoubted bargain – that's Asda prices - Eastbourne Borough in tier six of English football costs £12.00.
It was more Notting Hill Carnival on Wembley Way than Priory Lane, Eastbourne: orange (City) contrasted with red and black (Pirates); dancing, singing, swaying, vuvuzelas playing; the fever pitch of a joyous be-costumed football crowd… with one white face in it. Apartheid may have fallen but the white population of Polokwane is not drawn to its magnificent stadium on a perfect Saturday afternoon for football. As if to emphasise the challenge of increasing social mobility across races that remains for South Africa, the only other white people that I saw in the stadium were the managers of the two clubs... Not that the English game is in any position to blow its own vuvuzela with only two black managers in charge at the 92 top clubs.
Thrillingly the entertainment on the pitch matched that in the stands. Despite their big name pedigree Pirates were outplayed by the home side with Jonesy out of his seat on more than one occasion: for Sicho Jembule's twenty-seventh minute goal, two should've-been-scored one-on-ones, an overhead effort that went close and a couple of centimetre-wide free kicks as third from bottom City deservedly won one-nil. To avoid accusations of one-eyed reportage, Pirates fluffed a couple of good chances before the Polokwane winner.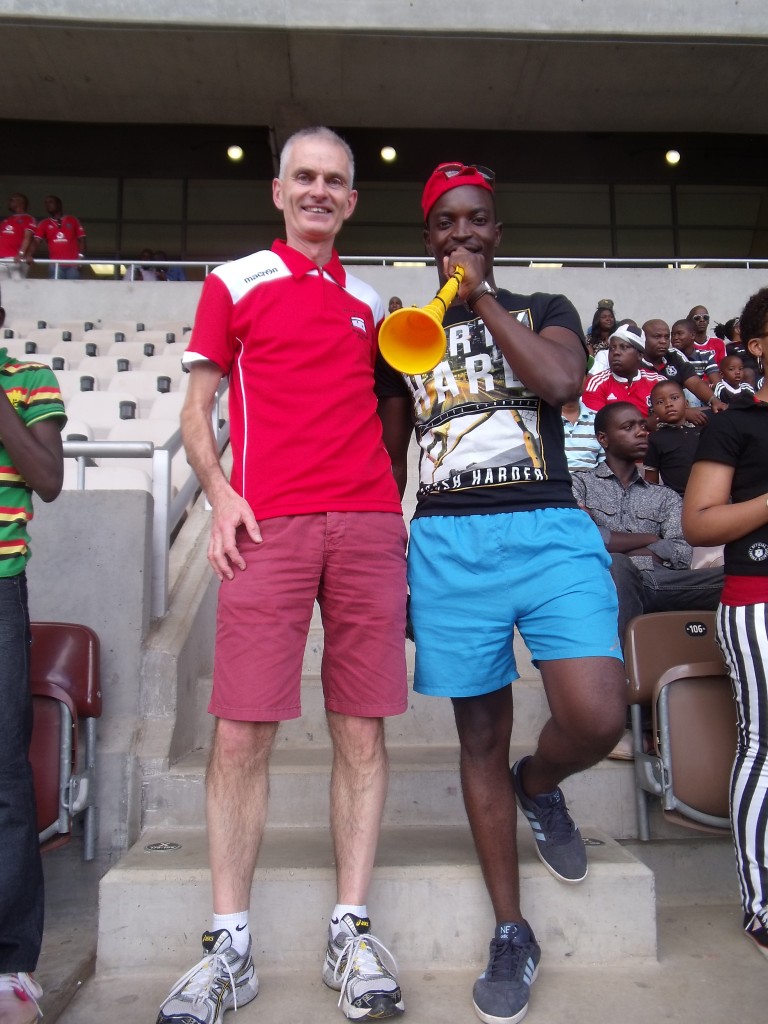 Language
English