Whilst researching the history of Parker's Piece, the artists Alan and Neville visited the Wren Library at Trinity College and were shown the following booklet.
The Winter Game:
Rules of Football
by J. C. T.
to which are added
THE RULES OF THE
Cambridge University Committee
AND LONDON ASSOCIATION
Extract from Preface of First Edition
"But what I should more especially desire to effect, would be that our Universities should adopt this or similar code of laws, for it seems a great pity that a game so manly and played with so much spirit, and yet good temper at our schools, should be laid aside from a fear that too frequent spills and too heated personal encounters might lead to results not compatible with the dignity and honour of maturing manhood.
But if the first and only object of players were to play the ball, and get it in the quietest way and best manner past the opposite side, which is true football, then such fears would cease, and football might take its rank with other games, giving perhaps wider scope for the exercise of courtesy and good feeling ; for skill is doing anything with ease and without disturbance ; power is gentle ; and defeat by a worthy opponent better than victory over a clumsy antagonist. As cricket in Summer, so may football become the National winter pastime, training our youth up in the habits of activity, manliness, and courtesy."
J.C.T. June 1862
The booket clearly references the Cambridge 1848 rules. This edition was printed just before the formation of the Football Association and their rules of 1863.
It had a particularly interesting diagram of the pitch. (Image kindly supplied by Trinity College Library)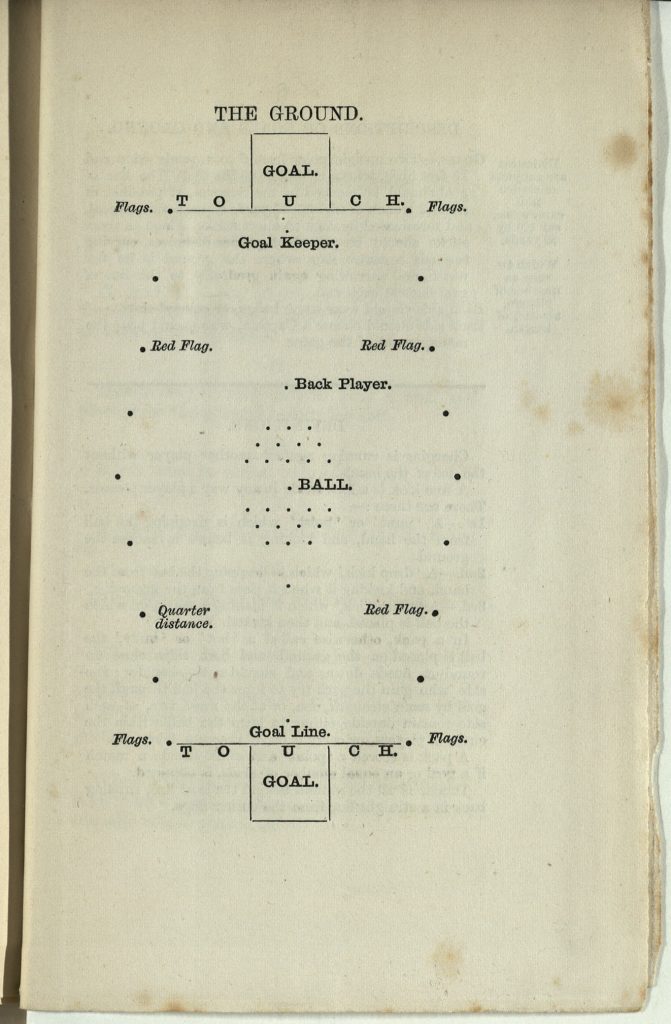 Language
English