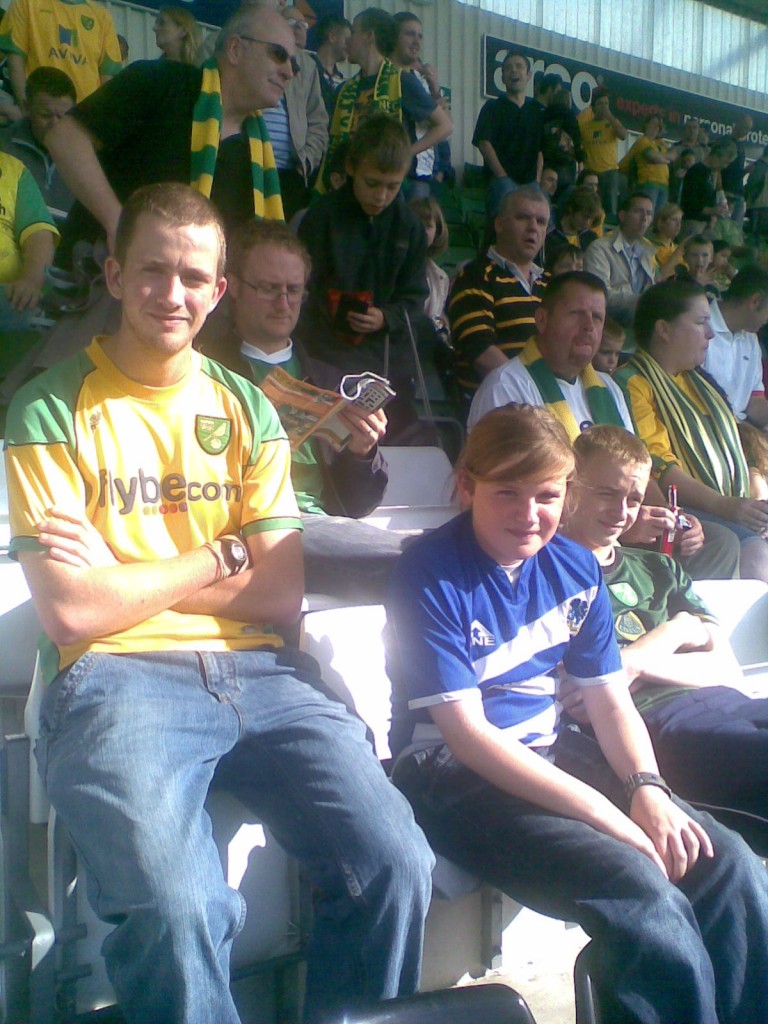 Why this image?
The picture I have submitted is of my two sons and step-daughter. It was away to Plymouth, my sons live in Cornwall, so it was a chance for me to visit them and get a city match in. My step-daughter claims she does not support Norwich, although I have pictures of her at Wembley in yellow and green and she has been to many away games with me. She has even been at Carrow Road to watch us beat that lot from Suffolk 2-0!
Football is a funny old game. The clubs we all support are named after the towns and cities we all live in. You are supposed to support the club nearest to your birthplace. I support Norwich City. I was born in the suburbs in the house where my parents still live 50 years on. My work took me away from Norwich, but I still supported them, going to every home game that I could on my return to the fine city. In 2005 my work took me to the North West. For a while I commuted at weekends between Cornwall where I worked to the little village just outside of Macclesfield where I was moving too. One day my football-mad stepdaughter brought home a free ticket for Macclesfield V Rochdale. The only down side was she had to be accompanied by a ticket buying adult. "No problems" I though, "I will take her."
Macclesfield were struggling at the bottom of league two and Rochdale were around mid-table, going nowhere. The game was poor, nothing at all stands out in my mind about it. Rochdale won 1-0. You always remember the result of your first ever game. Mine was beating Swindon 1-0 at Carrow Road, Duncan Forbes scored. It was the year we first got promoted to Division 1.
Little did I know what this free ticket would do to my football supporting life. I took my step-daughter to quite a few Macc games. Home and away. I have even had 2 years as a season ticket holder. I have seen Norwich in Europe, been to Wembley twice and seen City win both times. I have lived through the highs of winning league 1, division 1, winning promotion, Grant Holt hat-tricks, the list is endless. That is Norwich, my home town, my first football love.
And I support Macclesfield Town. To appreciate the highs in life you have to have lows. Now where do I start with Macclesfield Town! Relegation from the football league, never going further than round 4 in the FA cup and one year we got all the way to round 2 in the league cup! This season we are fully ensconced in mid-table of the National league. Knocked out of the FA Cup in round one, (we did win the one qualifying game we had to play) but we did make round 3 of the FA trophy before falling to the footballing giant Torquay United. Crowds hardly ever break 1600, the season is petering out and all around we have fans of Manchester United and Manchester City. It is not easy being a Macc fan. But when I am sat in the crowd, watching another game without the silky skills you find in the premier league, knowing that I have to scan the small print in tomorrows papers for any news at this level I am forever grateful that I do not support that lot from Suffolk!!!!!!