Being born and raised in Stevenage, I chose to follow my local football team (then "Stevenage Borough") on a regular basis in my later teenage years. Nowadays, this is a decision I mostly regret! However, following the Super Boro has given me some of the greatest days of my life and memories I could never forget. In 2007 we were the first team to lift a trophy at the new Wembley Stadium, coming from 2-0 down at half time to beat Kidderminster Harriers 3-2 to win the FA Trophy. 53,000 people were there that day. We returned to Wembley twice more in the following 3 years for FA Trophy finals, beating York 2-0 and losing 1-2 to Barrow in a feisty encounter. The first away game I chose to venture to will never be topped. Again, Kidderminster were our opponents. With just 2 games left of the 2009/10 season, all we needed was a victory to win the Conference title and promotion to the football League for the first time - something we were denied in 1996 by apparently failing to meet ground regulations. I will remember the goals from Charlie Griffin and Joel Byrom in that 2-0 win as long as I live, finally ending those fourteen years of hurt. The fact that local rivals Luton Town were the team in second place that season made it even sweeter, especially as their play-off campaign was a failure!
Our first season in the football League was another fairy tale. Placed 18th in the table in January, we welcomed Premier League big boys Newcastle United to Broadhall Way. This had happened before in 1998, a 1-1 draw followed by a replay at St. James' Park. We were cruelly knocked out by an Alan Shearer "goal" that never crossed the goal line, but instead was cleared away acrobatically by my hero and namesake Mark "Smudger" Smith. Back to 2011, we righted another wrong from the past, comfortably beating the Toon Army 3-1 for a famous cup upset. That lifted our season, rising up the table from 18th to eventually finish 6th, and with a place in the play-offs. We beat Accrington Stanley over 2 legs and met Torquay United in the final at Old Trafford. I travelled up on the coach with my Dad, and we wept as Boro won 1-0 to secure back-to-back promotions. Life as a Stevenage fan couldn't have been any better. Our team were in the third tier of English football. In League One, we finished in 6th place with a play-off place yet again, beating Sheffield United, Wednesday and Charlton Athletic along the way. It wasn't to be our year for the third time running, and we lost our manager to Preston North End, and have slowly and steadily declined since. We drew 0-0 with Tottenham Hotspur in the FA Cup and took them to a replay at White Hart Lane, going 1-0 up before eventually losing 3-1, but have had little to shout about otherwise.
Stevenage FC now find themselves back in the fourth tier, regularly finishing mid-table after rather uneventful campaigns. Most fans would argue that this is probably our level. As long as we don't get relegated back to non-league, we're happy. Fatherhood aside, following the Boro and travelling to all different corners of the country to watch football games has given me the happiest days of my life, and has also given me friends for life! Without football, there would simply be a giant void in my life, and there is no other hobby in the world I could think of that could possibly replace it! Since my first game with my Dad on the north terrace in 1996, I can honestly consider the 22 years that have followed as time well spent.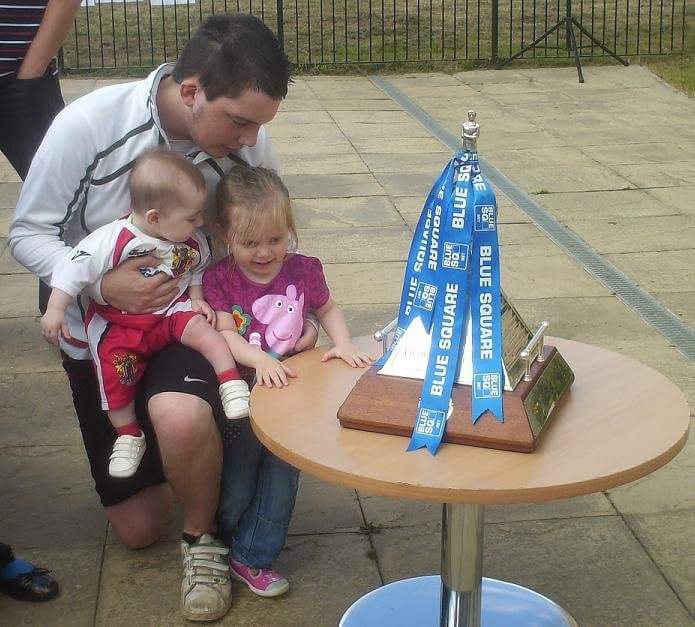 Language
English