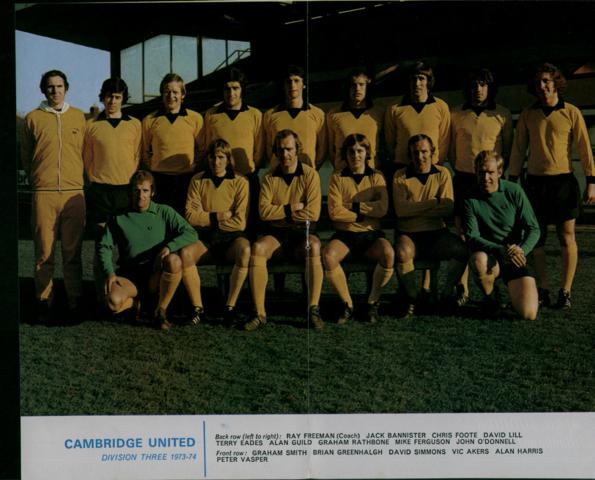 Team Name
Cambridge United F.C.
Why this image?
This was the first Cambridge United FC team I supported. Born in Cambridge in 1955 I reconnected with Association Football when, in 2001, I moved to Chorlton in South West Manchester - and happened to become a neighbour of this project's co-designer Alan Ward. My son went to a local primary school, where he learned belatedly, in the era of the "Class of 92", that an interest in Manchester United was essential to his playground cred.
Despite my lack of skill, I helped him develop into a talented junior goalkeeper, hence the photograph. We have since gone together to several CUFC away games, most recently their first match at Salford City F.C. (an undeserved 0-1 defeat, of course).
The "Cambridge Rules 1848" artwork has coalesced several significant strands in my life. My mum and dad used to meet and court in Hobb's Pavilion after their lessons at the (then) Cambridge Technical College. As a schoolboy I would cycle across Parker's Piece on my way home from school or to the adjacent Swimming Pool. Later, as a university graduate, I would pause and reflect at the brightly painted "reality checkpoint" lamp post in the centre.
It is relatively recently that I learned that the rules of "soccer" were first codified on Parker's Piece in 1848. The commemoration in stone, which I admire, has reinforced a realisation of my connections not just with Parker's Piece in Cambridge but with a world-wide family of lovers of Association Football.