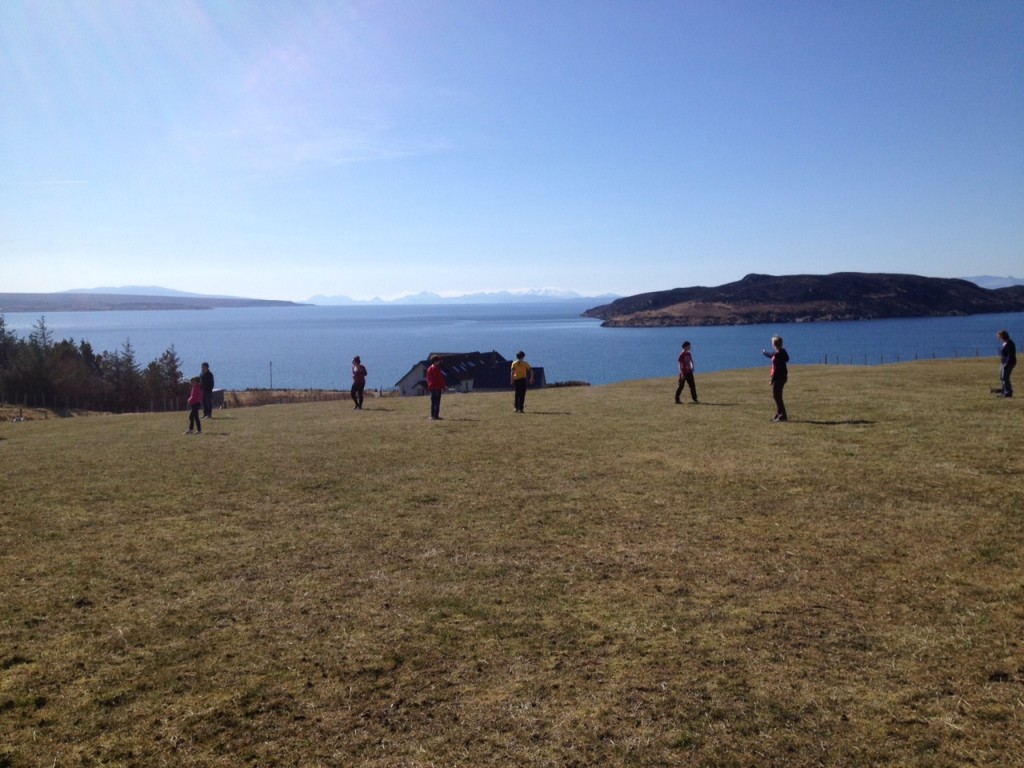 Why this image or video?
I only play football for one week of every year. It's around Easter, and almost always in Scotland. This picture shows one of our more spectacular 'pitches', in Big Sand, just north of Gairloch on the west coast of Scotland. There was no lawn with this particular holiday home, and the beach there is pebbly, so we asked permission of a neighbour to use his field, which luckily he agreed to,
It is an unwritten rule that every member of the three families who holiday together plays in the daily footy match – unless it literally rains all day, which, believe it or not, it rarely does in Scotland at Eastertime. We have other rules too, which are adapted each year to suit the circumstances – namely the increasing ages, robustness and skills of the 7 'children'. For instance, this year we may have to drop the rule that 'no-one can tackle Connie' as Connie, now aged 11, is getting pretty good. When she first started playing, her position (as a toddler) was on one of her parents' shoulders and we were playing the 'dads & daughters v mums & sons' rules, long since abandoned since the boys got so skilful this was no longer competitive. In desperation, we sometimes play the 3 now-teenaged boys versus everyone else.
There have been casualties over the years, and not just the daffodils likely to be marking the touchline of our pitch. Balls often have to be fished out of nearby burns, lochs and sea, or prickly gorse bushes. Dads often forget their age and fling themselves around in goal or tangle themselves up with their youthful offspring. One year my partner actually broke his metatarsal in a game resulting in me having to drive the whole journey home from the Mull of Kintyre. On another holiday, I have had to retire dazed after stopping a ball with my face, having forgotten what force the boys' kicks are now capable of.
Typically, the day's match takes place in the late afternoon before pre-dinner drinks. Co-ordinating 13 people (in various states of resistance) onto the pitch at the same time can prove difficult and games sometimes have to start before all players are present.
The length of the games is governed by how long the most exhausted adult can tolerate, whether dinner prep is at a crucial stage, how cold it is and what margin the girls are losing by. Our week-long football 'tournament' is the subject of much hilarity, debate, enthusiasm, blood, sweat and occasionally tears – but is now as much part of our annual trip to Scotland as the very-welcome gin and tonic after the game.