When football fans around the world think of La Liga in Spain, rarely do they think beyond Real, Barca, or teams based at a host of holiday resorts. However, hidden in the mountains in the Basque country and equidistant from Bilbao and San Sebastian, is a city of 27,000 people who are frankly pintxo's (Basque tapas) crazy, and fortnightly look toward a stadium of just over 5,000 seats. This is Eibar.
It is a city renowned for, well, not a lot really; but when you drive in, almost falling off the motorway that runs above the city walls, you see balcony after balcony overflowing with the blue and maroon of SD Eibar. This is a town that knows its roots, a town that holds passion to its heart, and a community with a common bond. The people are not 'Spanish', they are Basque. They don't even look to Bilbao – "Feuza Eibar" is the cry in this town: "Power to Eibar".
Their rise from the third tier of Spanish football to eighth in La Liga has taken just 3 years and has followed a very traditional route in these parts. Local players and managers who know the Basque way, and the belief that together they are stronger when equals. So much so, in fact, that each of the Eibar players earn the same money annually as one week's wages for many a Premier League player (€120,000). You have to think that the players have been playing this campaign for the pride and the people, not for money. And now they were playing one of the big boys, Atletico Madrid.
We arrived at the ground on a cold winter's day in January; you could be forgiven for thinking that we were walking up to Altrincham or Stockport rather than to a La Liga destination. The relentless rain was starkly Mancunian and there were a few thousand people milling around with a hint of delight at just being there. The Premier League could only aspire to the football supporting demographic on show. A mixture of ages across both genders, divided by generations but clearly united in their joy of the occasion.
Once in, the stadium (well nearly a stadium) appeared full. The half built stand opposite will be completed for next season and will clearly disappoint the owners of the flats on the first six floors in the large block that overlooked the pitch. It was clear from the glee on the face of the fan that told me this thought that the stand would be completed in time for their second season in the top flight. The capacity will increase to nearly 7,000. Despite that optimism they had not achieved survival just yet.
The bullring on the walk up to the stadium gave a hint of what to expect in the next few hours. Everyone was preparing for a passionate and entertaining fight. Unfortunately it was not to be. Although the passion was evident and never relented, on this occasion true class triumphed over all before it. On what was an absolutely drenched outfield, Atletico had it wrapped up in the first 15 mins before running out very easy winners by three goals to one. They hardly broke sweat and were very clinical.
3-0 down at half time, Jon Solozabal, a lifelong member of Eibar (and Bilbao – "shh") and Director, declared "the game is lost, the game is lost". It was said while smiling in the same way you imagine Wimbledon fans were happily pinching themselves losing 3-0 away at Liverpool in the late 1980s. The pride was there to see in buckets and come what may, the result was not going to ruin his day. He was in it for the journey, and was just enjoying the scenery along the way.
When we asked Jon about the Eibar story, he told the tale as if it were the first time, though clearly the words had passed his lips many times before, slightly rehearsed and professional. Throughout the whole interview he was constantly grinning like the proverbial cat who got the cream, and the enthusiasm was infectious.
"This is a small town where we were manufacturers of fire arms. My Father, Grandfather, and great Grandfather, everybody." It turns out that Eibar is a small industrial city and a close knit community that was isolated in the mountains of northern Spain. He later went on to compare Eibar to some of the smaller towns in the North of England.
Jon continued: "I have lived here all my life and they [SD Eibar] are my everlasting team. When I was four years old I came to this ground. I never ever thought we would be in La Liga, no resource, nothing, just spirit; something from the depths of our history".
In truth, like most other leagues in Europe, the availability of quality and finances does not rival that of English football. However, the members are what make this club and many others abroad different. We did not stand out because we were English, we stood out because we were not from Eibar. How many English clubs can lay claim to that kind of following and passion from just within their own city walls?
That single focus is what has taken a perennial provincial player to the 'big league', and the people of the town have not forgotten that. The mood after the game was the same as before. More Pintxo and drinks at the club hut, with everyone being refreshingly light hearted and chatty. The welcoming attitude to the very few outsiders was evident in spades, but they remained steadfast in their understanding of what they have and that they wanted to protect it. They were content football fans…. which makes them pretty unique.
In four Englishman, they added to their number on that day. The football was poor, the weather was awful, but the ethos was everlasting. Eibar has a place in my heart that will never die. As a community they hold all the power and intend to enjoy the ride wherever it takes them.
"Feuza Eibar", and its people indeed.
Will Coombe – 2/2/2015
EPILOGUE
The above report was written in 2015, but what Jon Solozabal did not expand on that day was that on promotion to La Liga in 2014 SD Eibar were immediately threatened with relegation without kicking their first ever ball in the top flight.
The club did not have the required capital on their balance sheet to obtain membership to La Liga. The members had to raise €2.15m before 6th August. That's €80 per man, woman, and child in the city. Upon confirmation of promotion on the 23rd May, the Club swiftly acted to set up a campaign to raise the share capital required: "Defiende al Eibar" (Defend Eibar) was launched at the end of May and raised the capital by 15th July.
Subsequent to our visit Eibar had a serious downturn in form. The loss to Atletico was their second on the bounce, and was followed by a further 13 losses out of their last 17 games. They picked up just eight points across those 19 games. A 3-0 win against Cordoba on the last day still nearly saved them, but a goalless draw for Granada saw Eibar finish 18th on goal difference leading to relegation.
In a bizarre turn of fate they had a relegation reprieve. A charge of financial mismanagement against Elche (who finished 13th) meant that Eibar were reinstated to play amongst the big boys for another year. You could not make it up, but it just adds to the attraction of this club.
The following season they built on this success, finishing 14th to secure a third season in the top tier of Spanish football. Furthermore, at the time of writing and after spanking Granada 4-0 on the 13th Feb, they remain above their noisy neighbours from Bilbao. They now stand in 7th place in La Liga after 22 games, just one point off of a Europa League qualification place. I bet they just can't stop smiling, and I can't wait to go back.
WHY THE REPORT?
Me and three mates from Manchester decided that we would have a winter lads' break in northern Spain. We were keen to live part of the Eibar story so made our way out there in January 2015. We were advised that getting tickets was easy for the game, so after staying in Bilbao, we made our way to Eibar and had a few beers to warm ourselves up... only to find on arriving at the stadium that the game was sold out!
Not willing to give up, we went to the club hut and started to ask around. It was fruitless, until one of the guys decided to try an alternative approach. An hour later I got the call to come to the stadium. As obedient as the alcohol would allow and breaking away from our stunted 'Basqlish' conversations, we trotted over to the main entrance, to be handed a laminated badge with 'Prensa' in bold letters across the top. There must have been a misunderstanding. We had just been handed Press badges.
I was a bit confused, and we kept quiet. We were marched by security up to the Press Box, and encouraged to settle in between Radio Madrid's match commentator and a Japanese/Chinese translator giving various match updates to the Far East.
We felt uncomfortable, but I began to realise what had happened. After a particularly shambolic evening the night before, we had christened ourselves the Broken Biscuit Club (BBC) due to our fragile state that morning. I think the confusion was around the initials of our club.
To mask the discomfort, we decided to look busy and inconspicuous at the same time. Not as easy as it sounds I can tell you. Clearly it had not worked though as at half time we were approached by one of the directors of the club ... news had spread the Broken Biscuit Club were in town.
An interview ensued, which was inserted into the report above and is genuine. It really summed up the club, they were delighted that 4 English guys were interested in their story and could not wait to tell it, whoever we were. Jon Solozabal was a true gent.
Post match we made a sharp exit, mainly to avoid further 'executive attention', but also because it was cold and we wanted a beer!
News of our presence also reared its head after the game. Some of the group were approached by a chap in a bar asking if we were the Brits in the Press Box. We must have been the only four English lads in the city and I was starting to wonder if we would be tracked down by the local paparazzi due to our celebrity status! Not so much 'inconspicuous', more like 'stood out like sore thumbs'.
It really was a great trip. The people were amazing, generous, and very friendly. This post is homage to them and their small city, and to spread the word of SD Eibar. There were some language difficulties and some embarrassment on our part, but they understood who we were and made us very welcome knowing the distance we had come to see their team.
If you are the sort of footy fan that has a foreign team, then don't pick Real, Bayern, or Barca. Pick a team with some soul that is not just a commercial cash generator, but a club that reminds you of what football should really be about.
Will Coombe 13/2/2017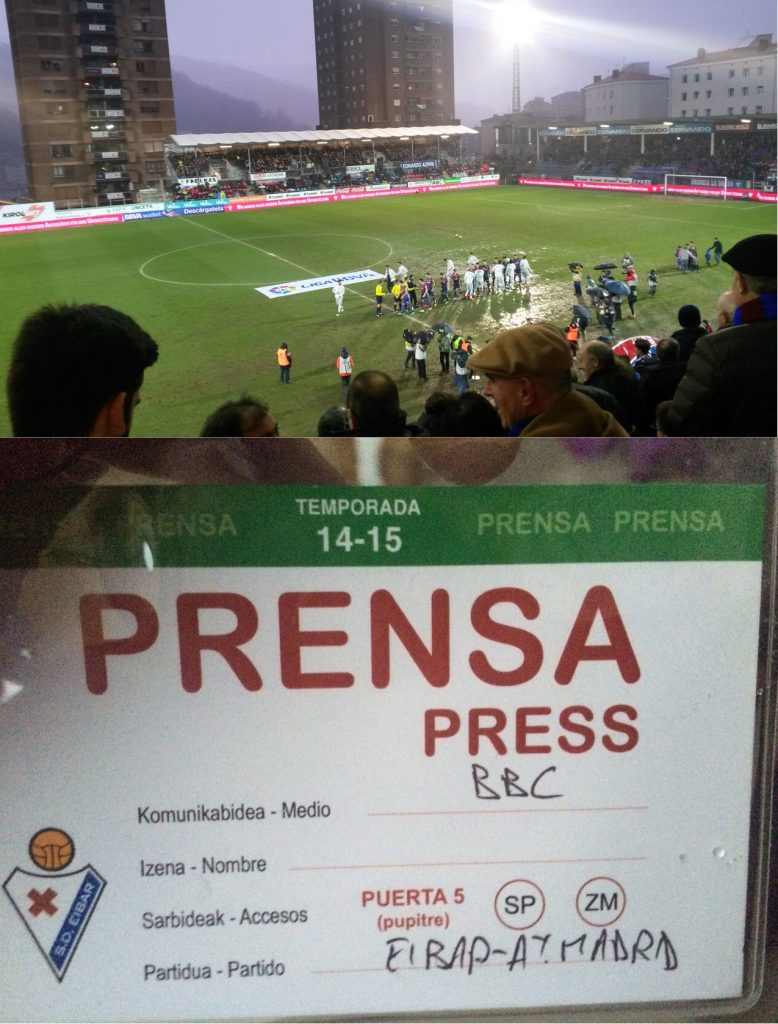 Language
English