The whole point of our Cambridge Rules 1848 project for Cambridge City Council is that even though part of the commission is a public artwork, it won't just be a static marker of where the rules of football as we know them today were first played in Parker's Piece. It also celebrates the way in which football then spread to be played and loved all over the world.
As you (hopefully!) know by now, we're reflecting that global spread in two ways – by cutting the sculpture engraved with the Rules in many different languages into nine pieces, and sending five of them to places of special footballing significance. Also, we've been inviting football fans of all nationalities to contribute to the website with stories and images that reflect their love of the game – so many thanks for all your submissions.
So because Cambridge Rules 1848 is a genuinely global project, it's been fascinating to spend some time in Russia with our charity partners Street Child United as part of their Street Child World Cup Summit – it underlined just how much football means across the planet.
Street Child United invited us to Moscow because it was a chance to talk to some of the people who will help us place the pieces of the sculpture all over the world. We met our potential partners from Russia, Brazil, India and Kenya and were able to discuss exact locations and finalise the translations of the rules – which was a lengthy discussion indeed!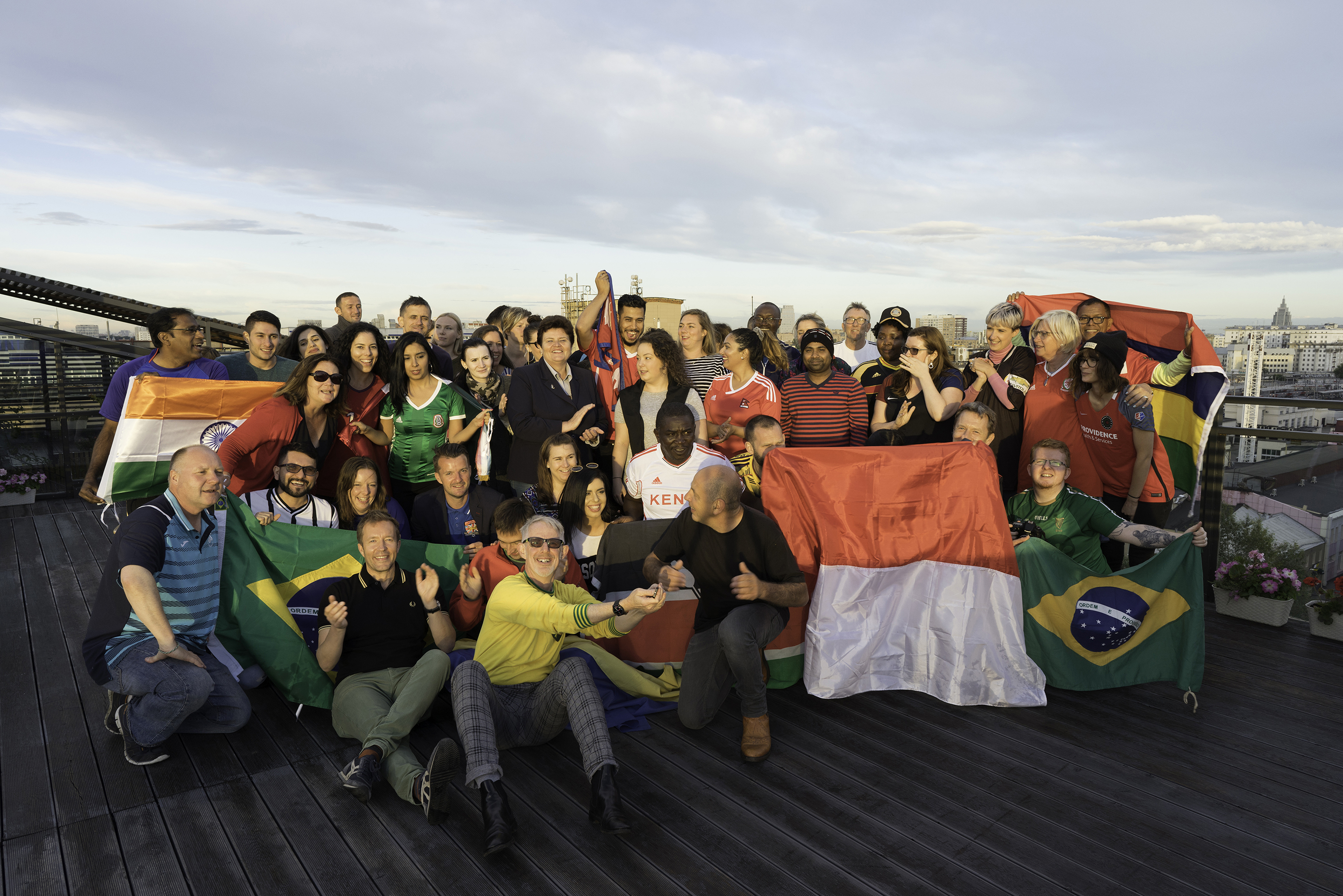 But it was a wonderful opportunity to actually meet people face to face – and we also took the opportunity to make sure Street Child World Cup Summit delegates contributed to the our website. We invited them to bring a football shirt or some form of memorabilia, and you can look at the results on the home page of our website. Not sure we've ever seen a Nepal football shirt in the flesh before…
Karim kindly read the rules in Arabic – which you can also hear below and on the home page  – but the highlight may well have been our chat with the Dynamo Moscow representative. Mikhail was extremely interested in our project, not least because his club was started by two Lancastrian mill owners, Clement and Harry Charnock, who introduced the sport to the Russian capital. That story says everything about how quickly and interestingly the rules of football spread around the world – and the mix of landscapes that the stones are going to will definitely remind us all how far the game has traveled from the little area of green in the middle of Cambridge.
And talking of Cambridge, Cambridge United Community Trust were there supporting the initiative, and we're really excited to be developing links with them in the local area.
Which was underlined by the two days we've just spent with Parkside Community College in Cambridge, hosting classroom based activities around the first rules. These included examining the language, style and time they were written, and how they might be interpreted in other languages.
We explored culture and heritage through design, imagined what a football strip and badge for Cambridge Rules 1848 might look like, and developed storytelling around football and families – some of these initial projects can be seen here and others have already made it on to the website as contributions.
It was a real moment for us when the students from Years 7 -10 visited Parker's Piece and stood on the proposed location of the sculpture and formed its shape while holding an array of shirts for a little video – it made the whole project seem excitingly real and we're really grateful to Parkside Community College for the enthusiasm they showed. We also got some unusual new shirts from the students.
There was a lovely moment where a student called Jess showed us her football shirt with an interesting autograph, it was Drika's from the StreetChild project and who featured in our recent podcast. A lovely coincidence and affirmation of the inspiring connections we are making. Here is the shirt and an audio piece she recorded.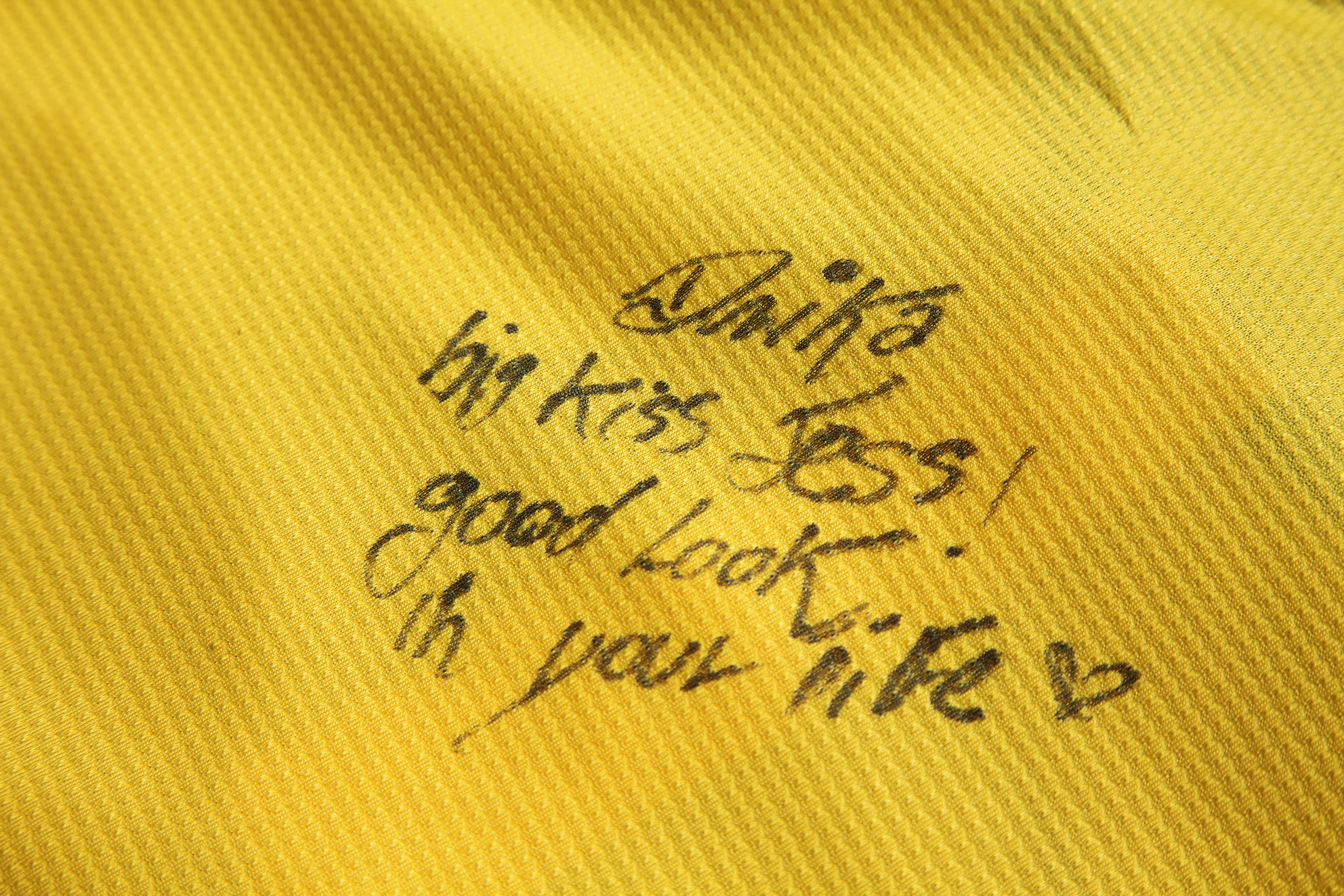 All of which happened just before Cambridge's Big Weekend Festival – which of course takes place on Parker's Piece. It was a unique opportunity to share our story of the commission with a fascinated public – some of whom went on to feature on the website and social media. It was really encouraging to have such positive feedback for the sculpture and the wider project, which celebrates Cambridge's unique place in football history. And no sooner had we finished, than up pops a beautiful terrace chant on the website posted by one of the teams we met at the tournament on that Sunday.